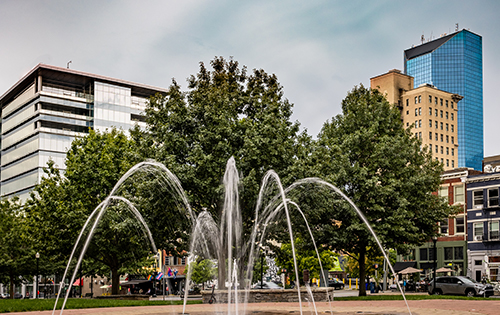 The City of Lexington is the county seat of Fayette County, Kentucky. The city occupies 285.54 square miles with its 320,600 residents. Lexington has a humid subtropical climate with average wintertime lows reaching 3.5℉ while summertime highs top 93.9℉.
The entirety of Lexington is situated within USDA Hardiness Zone 6b, and boasts over 100 parks including golf courses, dog parks, a sanctuary, and an arboretum. As such, Lexington has established a tree ordinance to protect its tree canopy and offer guidelines for lawful tree removal.
Following is an excerpt from https://www.treeremovalpermit.com/kentucky/lexington-ky-tree-ordinance-removal-permit-application-city-urban-forester/, which explains the Lexington, KY tree removal permitting process and requirements in detail.
City of Lexington Street Tree Removal / Planting Permit Application Process and Certificate of Appropriateness Application
The following will help you fill out and submit a Street Tree Removal / Planting Permit Application (for a tree located between the curb and sidewalk, if it is not in a historic overlay or a historic district):
Fill out the application form
Give as much pertinent information for the tree removal or planting as possible
Sign the application form
Return the application to the Division of Environmental Services
If you have any further questions regarding this application process, call LFUCG Environmental Services at (859) 425-2800.
Property In Lexington's Historic District – Property owners within Lexington's 15 historic districts (H-1 Overlay Zone) must obtain permits to make changes to the exterior of buildings and property sites. The Certificate of Appropriateness (COA) permit process is the way to do this.
To determine if your unique situation requires a Certificate of Appropriateness, contact the Historic Preservation Office at (859) 258-3265. If you require said permit, the following will help you submit for a tree removal permit in the historic district:
Fill out your information, description, and type of work to be done
Sign page one of the form
You may be required to submit photos or drawings of the work to be done
Contact the Historic Preservation Office at (859) 258-3265 to arrange a meeting and determine what information you will be required to submit
Applications can be faxed, mailed, or hand-delivered (they cannot be emailed)
Drawings can be submitted in PDF format. When submitting hard copy sets, 10 full sets will be required
When preparing your application and graphics for submission, keep in mind that the Board of Architectural Review will require ten (10) sets of drawings/photos to understand and process your application.
Note: Avoid delays in your permitting process by meeting all submission requirements and deadlines for your application and/or supplemental material requested by the board.
City of Lexington Resources and Contact Information
For further tree permit and certificate of appropriateness questions and information, contact the respective office(s) listed below:
Tim Queary
Urban Forester
Urban Forestry Department
200 East Main Street
Lexington, KY 40507
(859) 258-3404
urbanforestry@lexingtonky.gov
Bettie Kerr
Director
Historic Preservation Office
Board of Architectural Review
101 East Vine Street, Suite 220
Lexington, KY 40507
(859) 258-3265
Fax: 859-258-3394
bettiek@lexingtonky.gov
Lexington-Fayette Urban County Government(LFUCG) Environmental Services
200 E Main Street
Lexington, KY 40507
(859) 425-2800
Fax: (859) 425-2859
LexCall
311
(859) 425-2255
Or download the LexCall app
Sources:
lexingtonky.gov
lge-ku.com
For tree removal permit / ordinance info on other cities in Kentucky, visit: https://www.treeremovalpermit.com/kentucky/