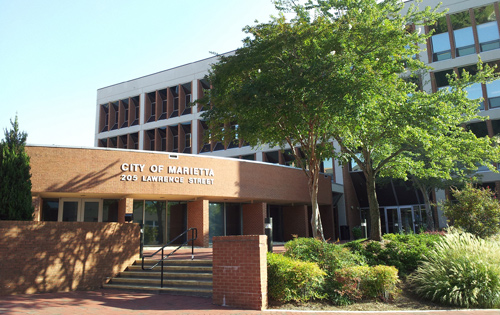 Situated 20 miles northwest from downtown Atlanta, Marietta lies in the heart of Cobb County, with Kennesaw to its northwest and Smyrna to its southeast.
Positioned in Hardiness Zone 7b, Marietta, Georgia has a humid subtropical climate with winter high temperatures averaging 54 ℉ and 88 ℉ through the summer.
The City of Marietta Parks, Recreation and Facilities tends to an astounding 18 parks with amenities and activities for everyone. With beautiful greenery surrounding, Marietta established a tree protection ordinance that serves as a clear guideline for the lawful removal and preservation of its trees.
Following is an excerpt from www.treeremovalpermit.com/georgia/marietta-ordinance-permit-city-arborist/ covering the Marietta, Ga tree removal permit process and its tree protection ordinance.
City of Marietta Tree Removal Permit Application Process
These steps will assist you in the lawful removal of dead, dying, diseased or hazardous trees from commercial or multi-family dwelling properties.
Step 1 – Download the Marietta Tree Removal Permit Application form.
Step 2 – Fill out the form.
Step 3 – Attach required information
a. Site plan showing location of tree(s) to be removed
b. Report from arborist or landscape architect documenting health of trees to be removed
c. Diameter of tree measured 4 1/2 feet above ground level
d. Species of tree(s)
e. Photos of tree(s)
Step 4 – Delivery options
In each of the following, correspondence should be addressed to the attention of:
Shelby Little
Planning & Zoning Office Manager
a. Hand deliver to:
205 Lawrence Street (Second Floor)
Marietta Ga 30060
8am – 5pm Monday – Friday
b. Mail to:
P.O. Box 609
Marietta Ga 30061-0609
c. Fax to: (770) 794-5655
d. Email to: slittle@mariettaga.gov
NOTE: City staff will verify the project or condition of your tree(s) and issue a decision within 10 days from receipt of all required documents.
Marietta Land Development, Construction, and Emergency Tree Contacts
Major land work within the City of Marietta Georgia requires the completion of a Land Disturbance Activity Application. The tree removal permits are not issued until the plans have been reviewed and approved by the Department of Development Services.
For land disturbance, construction, or tree permits, contact the relevant office below:
Shelby Little
Planning & Zoning Office Manager
Email: slittle@mariettaga.gov (email tree removal permit applications here)
Phone: 770-794-5671
Rusty Roth
Department of Development Services
Planning & Zoning
Email: rroth@mariettaga.gov
Phone: 770-794-5670
Rich Deckman
Parks and Open Space Manager
Email: rdeckman@mariettaga.gov
Phone: 770-794-5607
Donnie Lyle
Street Supervisor
Phone: 770-794-5678
If you have a tree emergency or need assistance from a local tree service, we vetted this team of professionals to assist in the removal of dead, diseased, or hazardous trees.
This team is also prepared to guide you through the application and permitting process.
Source(s):
https://www.toddsmariettatreeservices.com
https://www.mariettaga.gov
For tree removal permit and ordinance info related to other Georgia cities and counties, visit: https://www.treeremovalpermit.com/georgia/