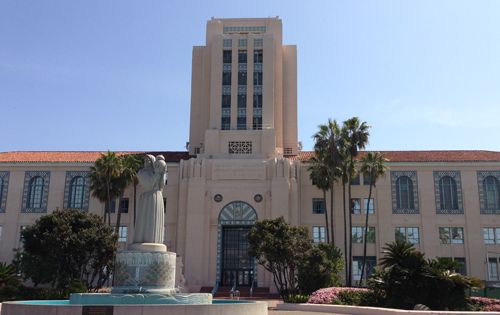 Located in southern California, San Diego occupies 372 square miles with its 1.42 million residents. The city is bordered by the Pacific ocean to the West and the Mexican border to the south.
San Diego has a mild climate with more than 200 days over 70℉, wintertime lows reach 50℉ while summertime highs top 78℉. San Diego lies within Hardiness Zones 8a, 8b, 9a, 9b, 10a and 10b, and boasts over 40,000 acres of park assets. As such, San Diego has established a tree ordinance to protect its tree canopy and offer guidelines for tree removal.
Following is an excerpt from https://www.treeremovalpermit.com/california/san-diego-ordinance-permit-city-arborist/, which explains the San Diego, Ca tree removal permitting process and requirements in detail.
The San Diego Tree Removal Application Process
In the event you are intending to remove a tree that requires a permit, this information will educate and guide you through the process.
For the removal of street or protected trees in the City of San Diego, a permit application will only be considered for approval upon verification of one or more of the following:
• The tree is dead, dying, or diseased
• The tree has become a safety hazard
• The tree is causing street, sidewalk, or structural damage
Council Policy 900-19, Public Tree Protection, provides for the protection of designated trees. These trees are Landmark, Heritage, Parkway Resource, and Preservation Grove.
If the above conditions apply, the below will guide you through the permit application process.
Application Instructions
Download or print the City of San Diego No Fee Tree Permit Application or call the No Fee Street Tree Permit Line at (619) 236-5513 for assistance.
Make certain that the following requirements are satisfied when you submit your Tree Permit Application Form:
• Fill in all applicable information to the best of your ability/knowledge.
• Provide a detailed site plan (page 2 of the application form)
• For tree planting, your selection of species must be consistent with the community's street tree plan, or match existing species in the community.
• Obtain a DigAlert ID when planting or removing a tree
Before any planting or tree removal permit is granted, a DigAlert ID number must be submitted with the application process. This ensures that the digging activities will not interfere with the delivery of public utilities. For more information or to schedule an assessment, dial (800) 227-2600 or 811. You can also visit www.digalert.org
When planting or replacing a tree, visit the City's Street Tree Selection Guide at https://www.sandiego.gov/sites/default/files/street-tree-selection-guide.pdf to determine which tree species should be planted.
In the event of sidewalk damage from removal and replacement activities, the property owner is responsible for the repairs of such damage. The required City permit for sidewalk replacement can be obtained by contacting Development Services at (619) 446-5000.
Note: If the area your activities will occur in falls under San Diego County jurisdiction, fill out the Application to Plant, Remove or Trim Shrubs or Trees in County Road Right of Way, and submit it to the County of Sand Diego Department of Public Works.
How To Submit
To submit your No Fee Street Tree Permit Application in person, schedule an appointment at the Development Services Department at (619) 446-5300 or contact the Street Tree Coordinator at (619) 236-5513. You can make contact via email at dsdstreettreepermit@sandiego.gov for other alternatives.
City of San Diego CA Arborist Department Information
Permit Submittal, Review and Issuance
Development Services Department

1222 First Ave., MS 301

San Diego, CA 92101-4101
Appointment Scheduling
619-446-5300
Brian Widener
City Forester
Community Forest Advisory Board

619-527-8050

bwidener@sandiego.gov
Sergio Arias
City Horticulturalist
Street Division
2781 Caminito Chollas

MS 44

San Diego, CA 92105

619-527-7500

Fax: 619-527-7534
24 Hour Dispatch
619-236-5513
No Fee Street Tree Permit Line
619-236-5513
dsdstreettreepermit@sandiego.gov
DigAlert
800-227-2600 or 811
www.digalert.org
County of Sand Diego
Department of Public Works
5510 Overland Avenue, Suite 110
San Diego, CA 92123
858-694-2055
Fax: 858-279-7020
ldpermitcounter@sdcounty.ca.gov
Source(s):
https://www.sandiego.gov/sites/default/files/urban_forestry_program_five_year_plan_final_nov_2016.pdf
https://www.arborday.org
For tree removal permit and ordinance info related to other California cities and counties, visit: https://www.treeremovalpermit.com/california/
Photo By Business Navigatoren (Diskussion) [CC BY-SA 3.0 de], from Wikimedia Commons