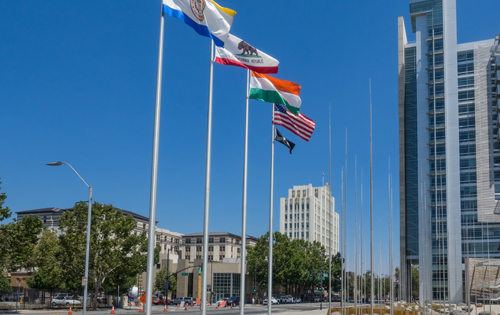 Situated inland from the Pacific Ocean and Yosemite National Park, San Jose lies in – and is known as the capital of – the famed Silicon Valley.
Positioned in Hardiness Zones 9b and 10a, San Jose, California has a Mediterranean climate with temperatures averaging 50 ℉ through the winter months and 70 ℉ during summertime.
The City of San Jose boasts nearly 16,000 acres of parks with beautiful trees and wildlife. San Jose has established a detailed and strict tree ordinance which protects its street, heritage, and ordinance-sized trees.
Following is an excerpt from www.treeremovalpermit.com/california/san-jose-ordinance-permit-city-arborist/ covering the San Jose, CA tree removal permit process and regulations.
The San Jose Tree Removal Application Process
For the removal of ordinance-size trees, a permit application will only be considered for approval upon verification of one or more of the following:
The tree is dead, dying, or diseased
The tree limits or restricts the development or improvement of a parcel
The tree has become a safety hazard
The tree is unsuitable
Application Instructions
Make certain that the following requirements are satisfied when you submit your San Jose Tree Removal Permit Application Form:
Tree description and site plan (pages 3 & 4 of the application form)
Color photograph of each tree (showing the entire tree) printed on 8.5" X 11" paper.
Pay the non-refundable fee if required: Checks made payable to: City of San Jose. (See screenshot below for fees)
After review, City staff may require an arborist report. If you have already acquired one, it may be included with your submission.
Fees
The chart below lists tree removal fees (which are accurate as of our publishing date). The fees below are subject to adjustment by the City of San Jose at any time.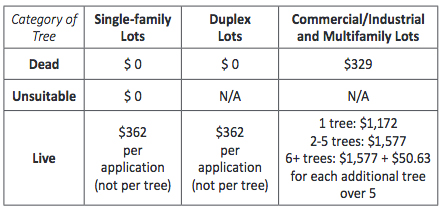 Should you need assistance calculating the total estimated fees, you may consult a planner by calling (408) 535-3555.
How To Submit
No appointment is necessary. Bring the application, site plan, photographs, and arborist report (if needed) to the Permit Center Assistance Desk; be prepared to pay the respective fee if applicable.
Permit Center
200 E. Santa Clara Street
Tower, 1st Floor
San Jose, CA 95113
Phone: (408) 535-3555
NOTE: 2 days before removing a tree or having a stump removed, it is recommended to call 811. This free call will notify local utility companies that you intend to dig. They will come to your project site and mark any existing underground lines. The marks remain valid for a period of 28 days.
City of San Jose CA Arborist Department Information
The City of San Jose's Department of Transportation, Planning Division, and City Arborist Department work in tandem to oversee and maintain the City's urban forest. Below is the contact information for each department.
City Arborist Department
(408) 794-1901
arborist@sanjoseca.gov
Department of Transportation (DOT)
Trees & Landscaping
1404 Mabury Rd.
San Jose, CA 95133
(408) 794-1901
Monday – Friday
8:00 AM – 5:00 PM
Planning Division
200 E. Santa Clara Street
Tower, 3rd Floor
San Jose, CA 95113
(408) 535-3555
Fax: (408) 292-6055
Source(s):
http://www.sanjoseca.gov/index.aspx?NID=3655
For tree removal permit and ordinance info related to other California cities and counties, visit: https://www.treeremovalpermit.com/california/