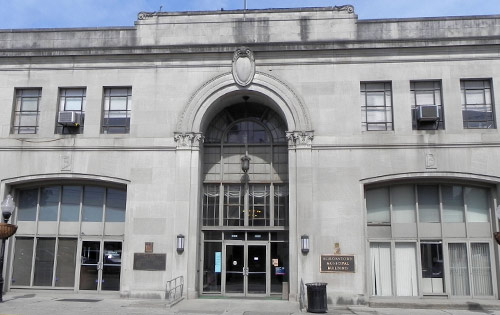 Located in north-eastern West Virginia, Morgantown is situated entirely within Hardiness Zone 6b, and boasts over 30 parks, campgrounds, golf courses, and recreational facilities that are surrounded by trees.
As such, Morgantown has established a tree ordinance to protect and preserve its tree canopy while offering guidelines for lawful tree removal.
The following is an excerpt from treeremovalpermit.com/west-virginia/morgantown-ordinance-permit-city-arborist/, which clarifies how to handle diseased, dying, or dead trees in Morgantown, WV, the tree removal permit process and its requirements.

Tree Removal Permit Regulations for Residential Private Property

Residential property owners in Morgantown looking to improve their landscape, harvest or remove distressed trees should note that no permit is required by the City for the removal of 1 or 2 trees and stump grinding – as long as the root ball is left in tact below the ground.
City of Morgantown Application for Building Permit
A permit is required from the City of Morgantown when:
• 3 or more trees will be removed from your property
• Any tree will be uprooted from your property
• You wish to prune or remove any tree on public property
Use the following link to download the application for a building permit
Call 811 to have underground utilities identified and marked before digging into the ground or grinding a stump.
Note: on private property a permit is not required to remove up to 2 trees and their stumps – as long as the roots are left intact underground.
State of West Virginia Foresters and Loggers
The State of West Virginia has established a set of laws and regulations which address logging operations. While this manual was written primarily for loggers and foresters, you will find many useful laws and regulations applicable to other segments of the logging industry.
City of Morgantown Resources and Contact Information
Barbara Morgan
Engineering Department
389 Spruce Street
3rd Floor, Room 26
Morgantown, WV 26505
(304) 284-7412
https://www.morgantownwv.gov/197/Engineering
Damien Davis, P.E., CFM
City Engineer
(304) 284-7398
ddavis@morgantownwv.gov
Emergency Services
9-1-1
Mon Power
(888) 544-4877
Call Before You Dig
8-1-1
Source(s):
morgantownwv.gov
library2.amlegal.com/nxt/gateway.dll/West%20Virginia/morgantown_wv/citycode?f=templates$fn=default.htm$3.0$vid=amlegal:morgantown_wv
For tree removal permit and ordinance info related to other West Virginia cities and counties, visit: https://www.treeremovalpermit.com/west-virginia/
Photo: MrBill3 [CC BY-SA 3.0], via Wikimedia Commons